Smart launches their newest promo, the Smart LAHATxt Unli25 where it features unlimited SMS texting to ALL Networks plus an additional 10 minutes of calls to your Smart, TNT or Red Mobile friends.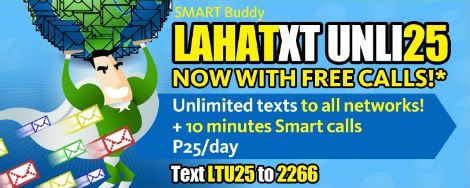 This is a pretty good offer to all Smart Buddy users, with a P25 load, which offers an ALL-NET Text Unlimited. It's just simply amazing, right? To bag this promo, you can text LTU25 to 2266. Now to call, simply dial *2266 + 11-digit Smart / TNT / Red Mobile # (Ex. *226609181234567).
This promo, the Smart LAHATxt Unli25 started last July 29 and will continue till November 30, 2011. Just another freshly released hot picks for you to choose from.