KingCom just released an Android phone tablet a couple of days ago, with which they aim to compete with the 5" Samsung Galaxy Note, thus named it KingCom Note Android 903. It's quite intriguing how cheap this is for only P8K+, knowing that it will cost you P30K to have the Galaxy Note.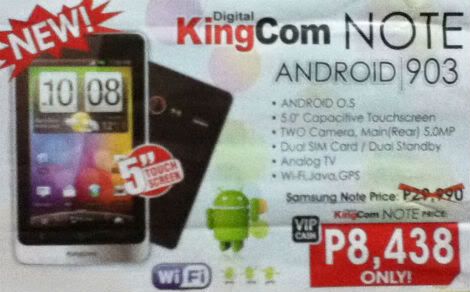 Well, the KingCom Note Android 903 has a 5" capacitive touchscreen, powered by a 650MHz processor with a 512MB RAM that runs on Android Gingerbread 2.3.6. It has a dual-SIM, dual-standby capability, though none of the two can connect via 3G. It has Wi-Fi, Bluetooth, plus a TV tuner. It also has two cameras, the 5.0MP cam with a flash at the back and a VGA camera on the top-left front if you hold it up on a portrait orientation.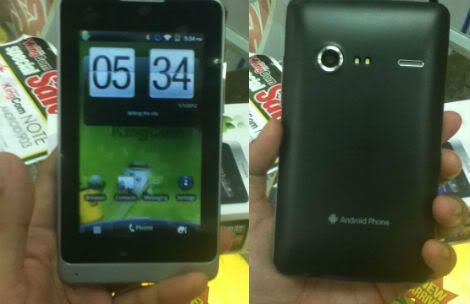 Now, by the looks of it, you can notice that it has a sort of an anodized aluminum-like finish on the sides with a bit extended portion at the bottom, where the brand KingCom itself is placed. Below the 5" screen display, you can see four touch controls, the home, options, back, and search, respectively from left to right. At the top-edge, you can actually locate the speaker so you can just hold it up on your ear when you're calling. The back panel is also made of plastic with a bit glimmering dark gray finish. When you turn on its left side, you'll find the volume control. At the bottom, you'll find the charging dock connector, the mic, and the 2.5 jack. While on top of it, you'll see the power button and the TV antenna.
KingCom Note Android 903 Tech Specs and Price:
Android 2.3.6
Dual-SIM, Dual-Standby
5" 480 x 800 Capacitive Touchscreen display
650MHz processor
512MB RAM
5MP primary camera with flash
VGA front-facing camera
MicroSD slot (up to 32GB)
Analog TV
Wi-Fi, Bluetooth, A-GPS
1700mAh battery
Cash Price: P8,438
Performance wise, you'll be able to play games comfortably without lagging, though we haven't tried much of those graphics-intensive ones. It's YouTube friendly and cozy enough to browse online with. The TV tuner seems to locate local channels, but you can't have a decent channel to watch at all inside the mall. You have to get outside to have better reception.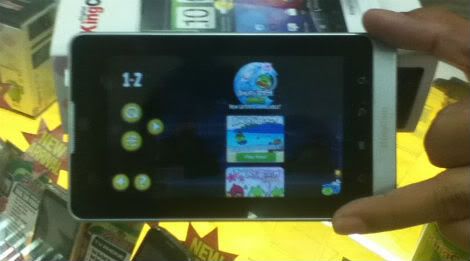 For a gadget to be named as a "Note," this one doesn't have a pen to go with and doesn't have a software like the S Memo. So, you still have to buy a capacitive pen and find a note-taking software to your liking on Google Play. However, if you're looking for a phone-tablet combo sized at about 5″ with Wi-Fi as a sufficient online access, and the dual-SIM capability is much of a necessity for you, then this might be a cheap, yet good alternative for you.